AKILLA®: 'In the blink of an eye' - your passport to survival'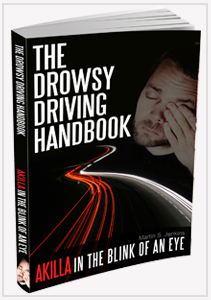 NZ $20.00
This book aims to help fill the knowledge gap by telling the "must knows" about drowsy driving:
1. What the causes of drowsy driving are - when, where and why you are most "at risk" to drowsy driving such as afternoon driving or after a plane flight or after fast foods or while on medication;
2. What the best ways are for you to avoid drowsy driving - the steps to minimise your risk of being a drowsy driver;
3. If you do feel drowsy, what you must do to stay alive - and this is the simple bit - you must stop as soon as possible and take a 15 minute "power nap".
This book also dispels some drowsy driving myths. It tells you what things won't revive you when you are feeling drowsy.
A compact, easily understood book that presents clear educational messages that everyone should be aware of before driving.
This passport sized book readily fits into your pocket, handbag or glove-box.
Format:
Paperback, 52 pages
Condition:
New
Author:
Martin S. Jenkins
B.E. (Civil), Dip.Bus. Studies (Finance)
Publisher:
New Zealand Sleep Safety Ltd
Release date:
September 2006
ISBN:
ISBN-10:0-473-11401-1
ISBN-13:
978-0-473-11401-5
Dimensions:
Passport size
12.7 cm (W) * 17.8 cm (H)
Country of Publication:
New Zealand